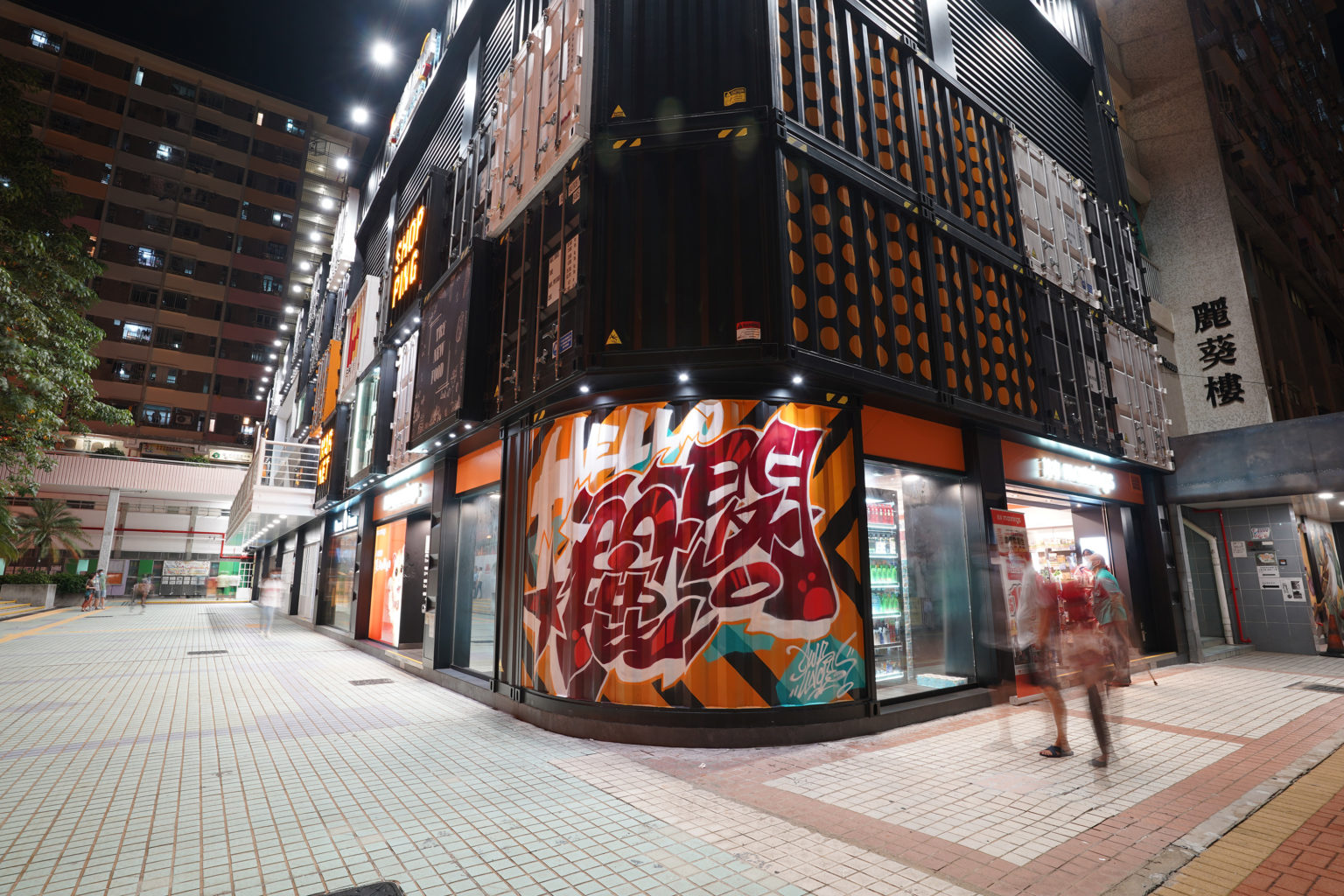 Hello,歡迎嚟到麗閣商場! 麗閣商場於1977年興建,屹立深水埗逾40年,見證著這一區的發展。於2019,麗閣商場以貨櫃工業風的全新面貌登場,冀為街坊帶來煥然一新的體驗。是次活化,民坊與本地藝術家合作,創作一系列壁畫,希望透過公共藝術連繫深水埗區與麗閣邨的故事。歡迎大家蒞臨麗閣!
Hello, welcome to Lai Kok Shopping Centre! It was built in 1977 and has stood in Sham Shui Po for more than four decades, witnessing the development of this neighborhood. In 2019, Lai Kok Shopping Centre re-emerged as an edgy shipping container shopping centre, bringing a novel experience to our neighbours and visitors.
People's Place collaborates with a local artist to create a series of murals, presenting the stories of Sham Shui Po as well as  Lai Kok Estate. Once again, we are pleased to see you here.
洋紫荊上的麻雀 Sparrows on the Bauhinia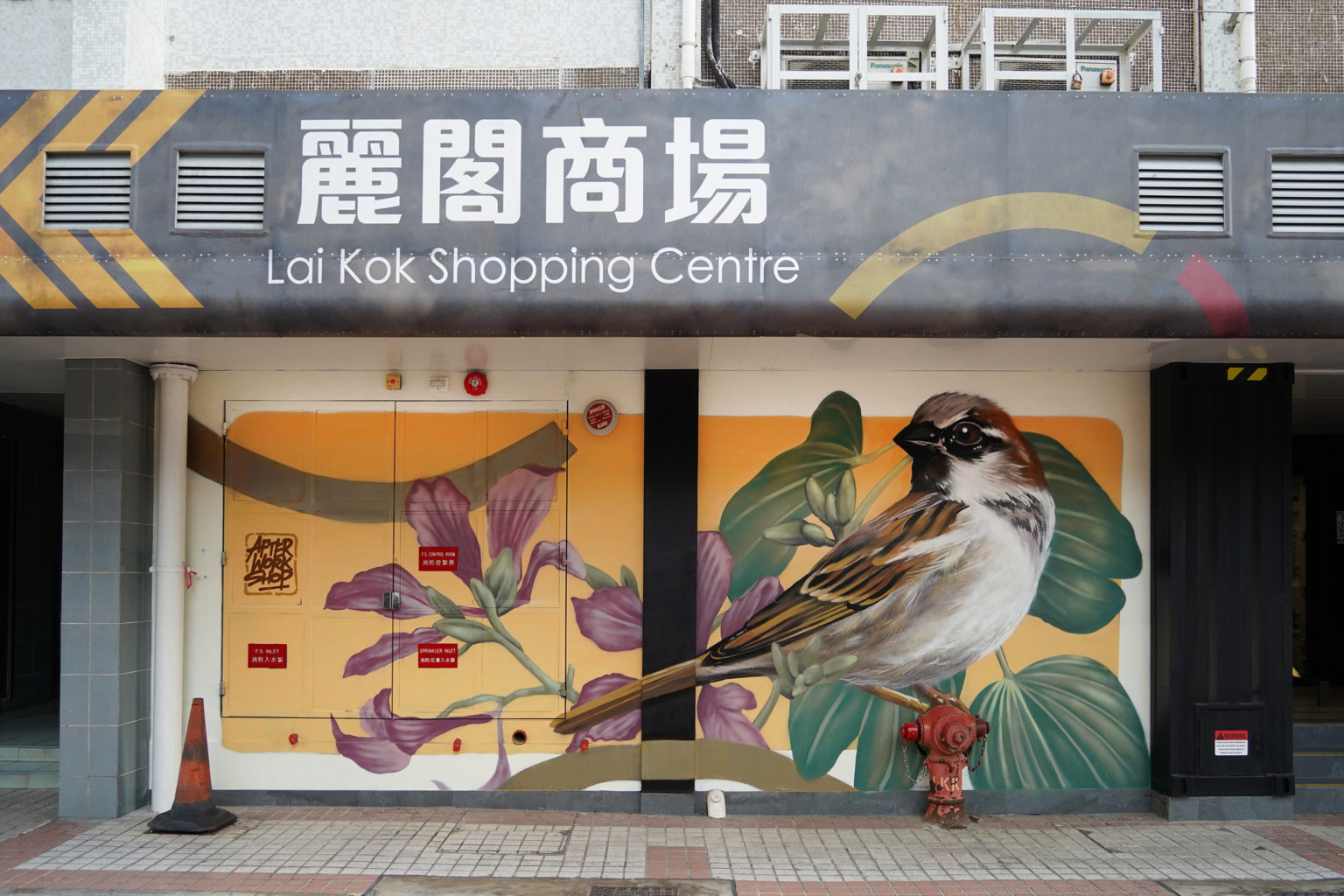 麻雀, 正名 「樹麻雀」, 是香港普遍常見的鳥類,牠們喜愛在人煙稠密的地方上生活。麻雀富有生命力而且適應能力強。跟據香港觀鳥會的麻雀普查,全香港麻雀數量最多正是深水埗區。
牆壁前的消防水龍頭貼近牆身,令塗鴉的設計增加難度。藝術家順勢將水龍頭「缺陷」變成畫作一部份。水龍頭化身成為香港市花洋紫荊的枝節,一隻麻雀站在洋紫荊的枝頭上;變成立體錯視空間,與牆身環境結合起來。
Sparrows are commonly found in Hong Kong. They love living in densely populated places and are of great vitality and adaptability. According to a sparrow census conducted by the Hong Kong Bird Watching Society, Sham Shui Po district has the largest number of sparrows in Hong Kong.
There is a fire hydrant close to the wall, making the graffiti design more difficult. The artist, however, turns such defect into part of the painting creatively. The fire hydrant has become a branch of the Bauhinia blakeana, our city flower, letting the sparrow rest on it. This piece of work instantly becomes a three-dimensional space.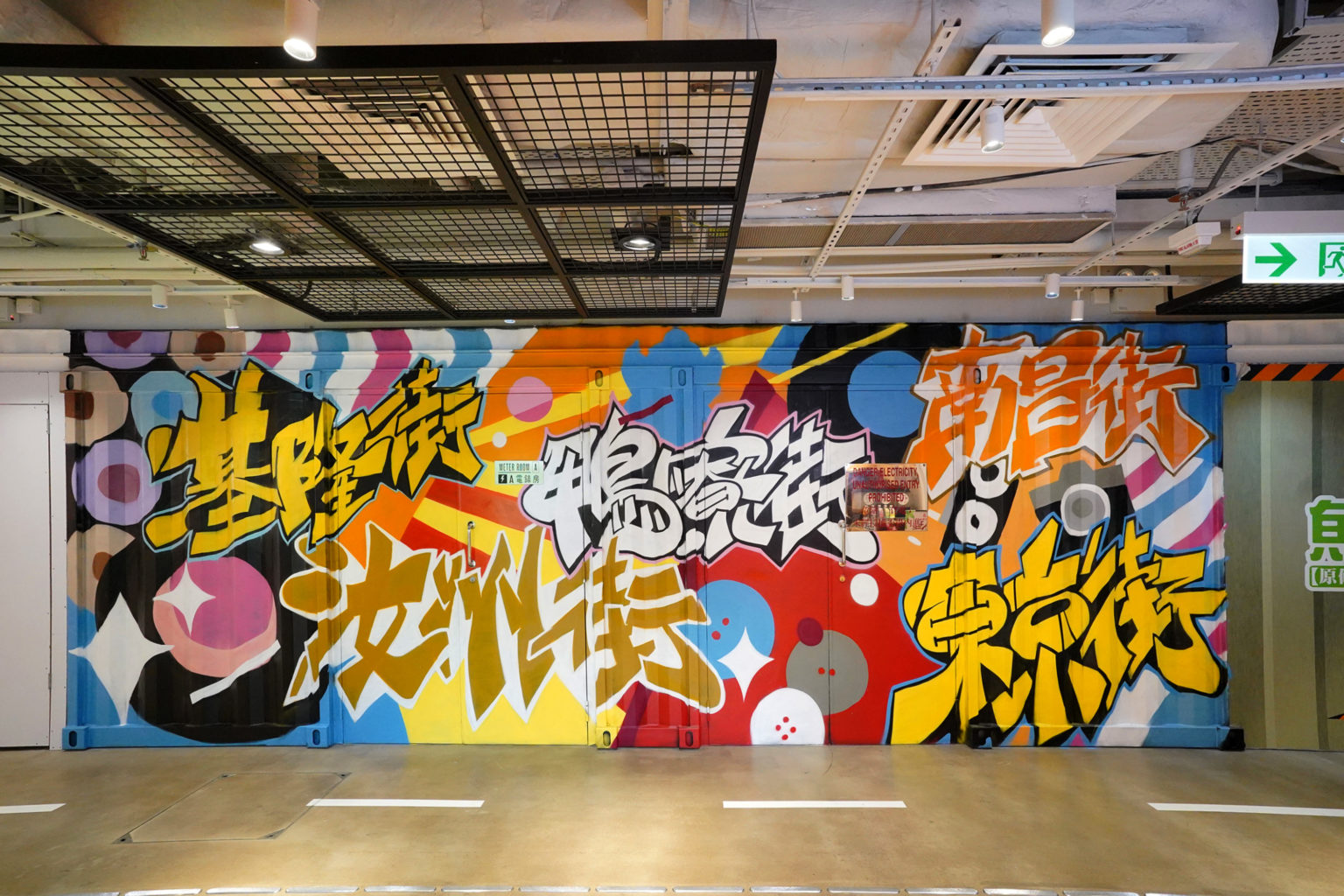 深水埗是一個寶地,大街小巷都能發掘驚喜。像是被譽爲「男人的天堂」,充滿電子器材的鴨寮街;林立各種扭扣、拉鏈等服裝物料的基隆街;一街之隔,以售賣珠仔手飾爲名的汝州街;以及售賣布匹及雜貨爲名的南昌街。不論男女老幼,到訪深水埗總有一種像尋寶般的喜悅。作品除了用上藝術家最擅長的漢字塗鴉畫出一個個熟悉的街名,更在背後畫上林林總總的「寶藏」。
Po, means valuables in Chinese. In Sham Shui Po, you can find surprises and treasures everywhere. For instance, you can buy a variety of electronic equipment and uncommon electronic appliances in Apliu Street, also known as the "men's heaven". Right next to it is Ki Lung Street, a place where you can fine clothing materials such as buttons and zippers. Meanwhile in Yu Chau Street, you will discover bead jewelries that perfectly match with your outfits. Looking for groceries? You may go to Nanchang Street nearby. You can always enjoy treasure hunting in Sham Shui Po no matter what you are looking for.
The artist applies Chinese calligraphy in showing those familiar street names. Meanwhile, he blends the Chinese characters with the treasures you can find in Sham Shui Po.
醒獅 / 獅子頭貨車 Lion Dance and Lion Head Lorry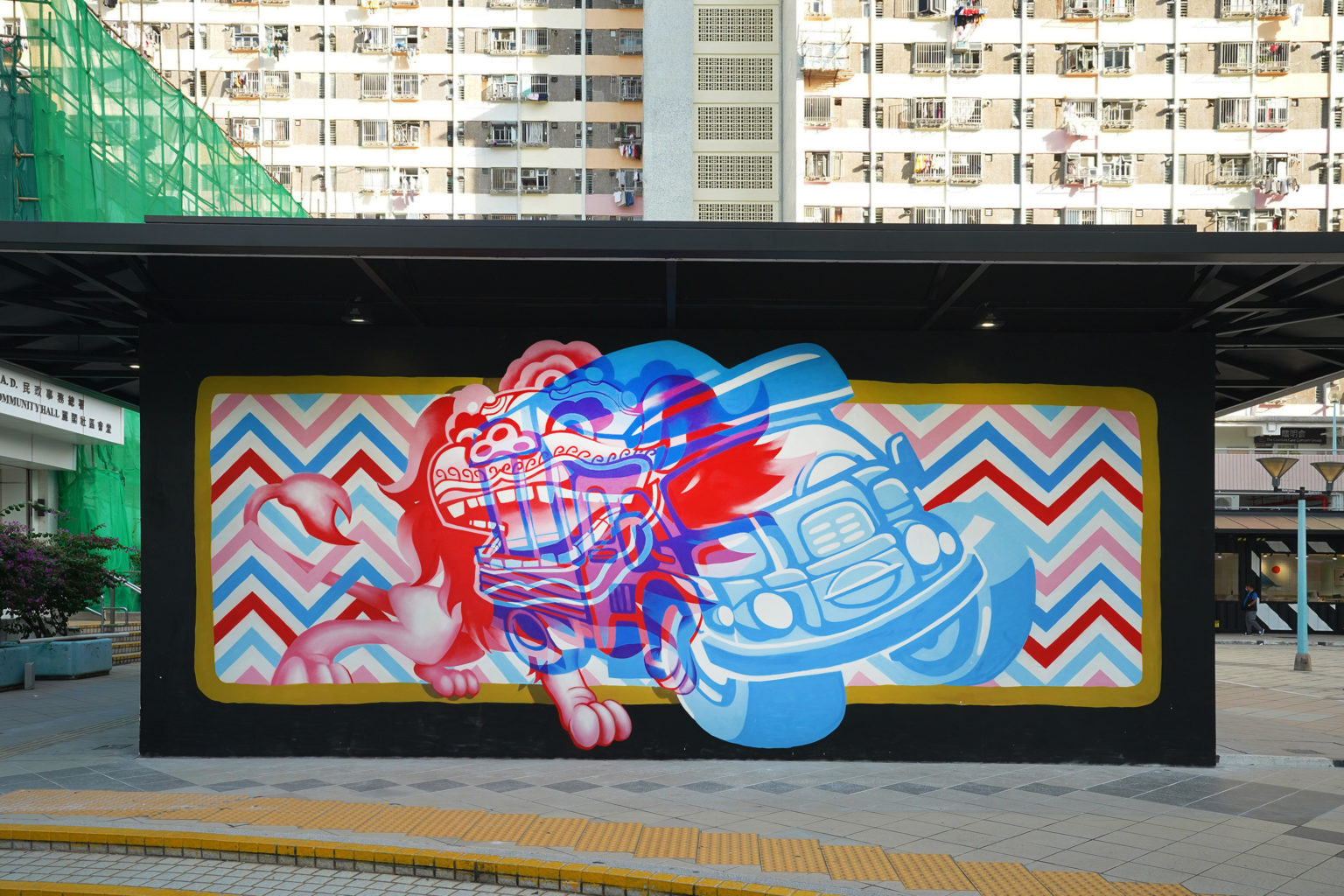 至六十年代起,深水埗以紡織批發市場聞名,從成衣、布料、到各類工具、玩具,貨品琳琅满目; 因此,每次到訪深水埗總看到大批貨車出入。當時最普及的一種貨車,它的車頭形狀特別,車頭燈和排氣口之位置活像傳統廣東醒獅的獅子頭,因此被命名「獅子頭貨車」。過去幾十年於深水埗各主要街道的「獅子頭」,熙來攘往川流不息,算是另一種的「獅子山精神」吧!
作品中,藝術家把醒獅與獅子頭貨車互相交疊,並用上經典紅白藍配色,以向香港人的獅子山精神致敬。如果想看得更清楚,可用以往流行的紅藍眼鏡,用手遮蓋一邊眼睛,便可看到醒獅與獅子頭貨車兩幅不同的圖像。
Since the 1960s, Sham Shui Po has been famous for its textile wholesale market, with a wide range of goods from ready-to-wear, fabrics, tools and toys. There are lorries and trucks going around in this bustling area all the time. Meanwhile, if you look at those lorries carefully, you may find them look like the head of the gigantic lion used in the traditional Guangdong lion dance, that's why those lorries are also called "Lion Head Lorry."
These "lions" have been running in this buzzy place over the past decades. It is naturally considered as another kind of "Lion Rock Spirit"!
In this mural, the artist pays tribute to the Hong Kong Lion Rock Spirit by merging the lion dance and lorry. He also paints with the colours of the classic red-white-blue canvas bags, which originated in Hong Kong in the 1960s.
Put on the 3D glasses and cover one eye, you will see two different images of a lion dance and a lion head lorry.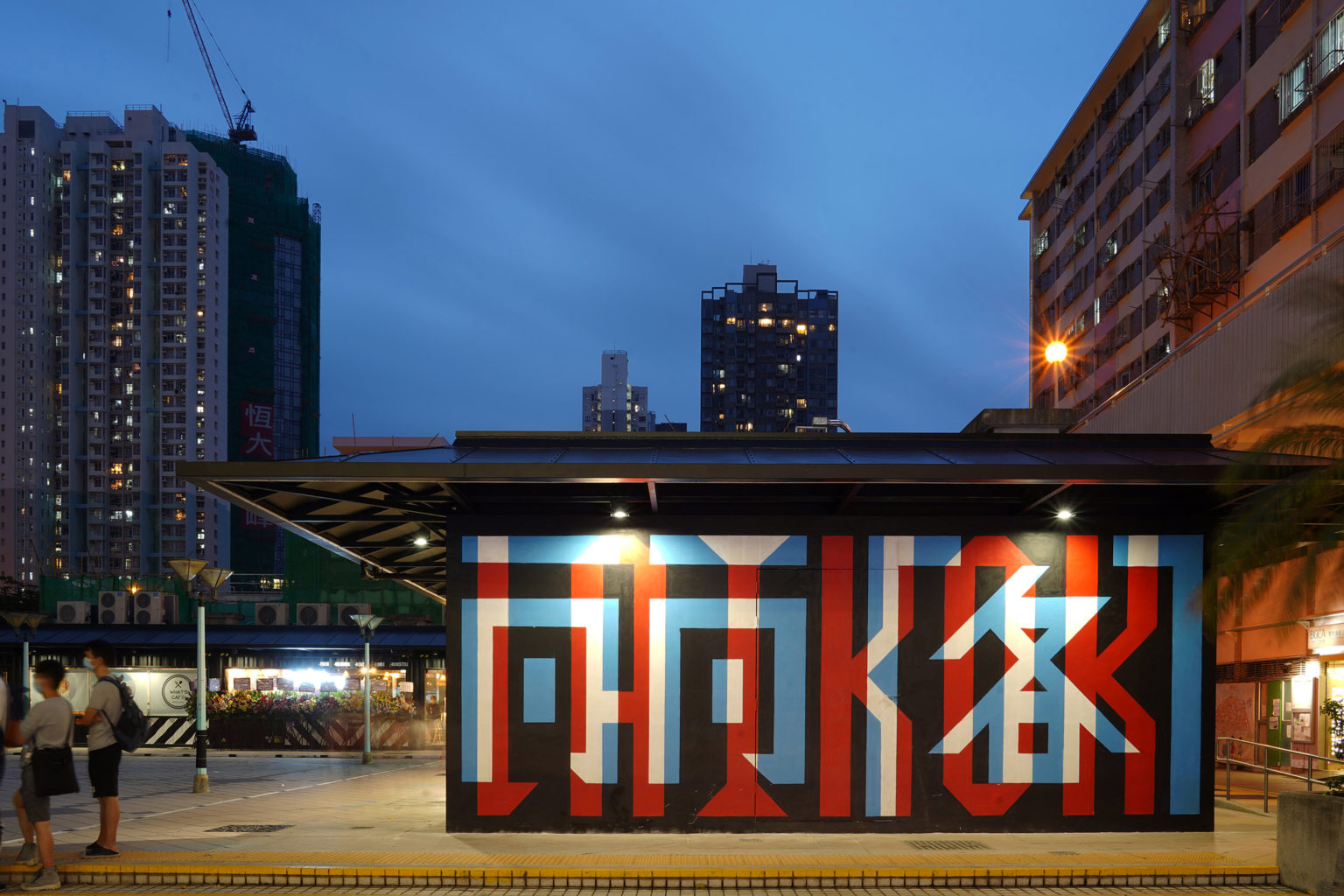 相信舊街坊對於作品上「麗 / 閣」兩字形狀並不陌生。麗閣邨於八十年代興建,當時的設計師在東京街巴士總站對出的牆身,用磁磚碰湊成簡化版「麗」和「閣」兩字。雖則設計簡約,但對於每天經過的街坊卻是一種集體回憶。
此作品特意保留原有「麗閣」 兩字形狀,利用地道的紅白藍經典配色,重新呈現在街坊眼前。戴起以往流行的紅藍眼鏡,用手遮蓋一邊眼睛,會發現除了「麗閣」,還有「LAI KOK」的英文拼音。作品展現出麗閣商場的活化理念,在改造及加入特色設計同時,亦保留區内原有特色。
Folks are probably familiar with the image of this "Lai Kok" Chinese characters on the wall.  Lai Kok Estate was built in the 1980s, the designer at that time used tiles to make a simplified version of the Chinese words Lai Kok. This simple design has become a collective memory of the people living around.
This piece of work retains the original shape of the word Lai Kok, while re-paint it using the classic red white and blue colour. Put on your 3D glasses and cover one eye, you will see, apart from the Chinese characters, Lai Kok's English name.
The mural shows the revitalisation spirit of Lai Kok Shopping Centre, transforming the Centre while keeping its original characteristics.